We're honored to announce that THREE of our new upcoming Mosconi / Gladen products have received EISA Awards! Here's a preview of what's to come later in the year for the Mosconi PRO 5|30 5-Channel Amplifier, the Mosconi RC-Can VW DSP, and the Gladen PRO 10 Subwoofer!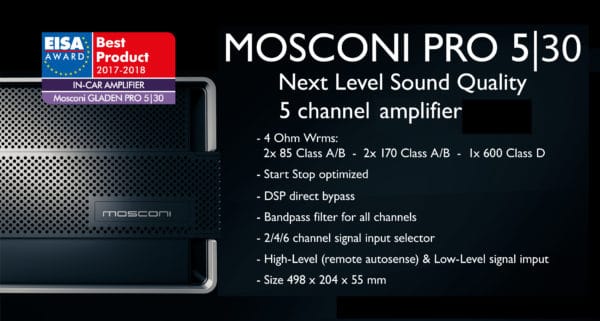 Mosconi PRO5|30 Amplifier
This debut amp from Mosconi's new PRO series suggests more good things are still to come from the brand. Boasting five independent channels of power – the first stereo pair provides 85W, the second pair 170W while the final channel uses a Class D amp to pipe a substantial 1000W to the subwoofer. Maximum flexibility is ensured thanks to the inclusion of separate active crossovers in all channels or, alternatively, all crossovers can be bypassed to adapt the input parameter for use with Mosconi's DSP.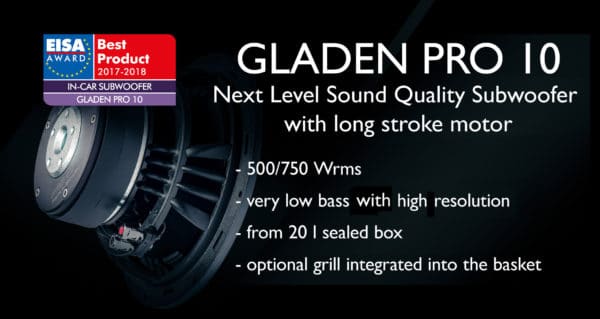 GLADEN PRO10 Subwoofer
The fact that it's specially designed for compact cabinets does little to deter this excellent subwoofer when it comes to delivering that all-important low-frequency performance. The newly developed, high-tech composite cone comes with a special coating to maintain high rigidity while keeping weight low. Combined with its large-diameter long-throw voice coil, for high power handling, and powerful magnet assembly, the result is a very pure, low distortion sound. The protection grille that seamlessly fits through specially designed slots in the basket flange delivers a final touch of elegance.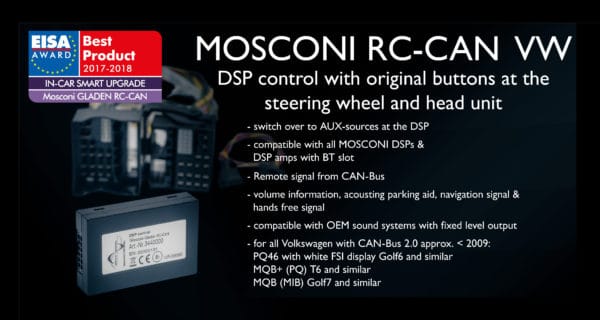 Gladen Mosconi RC-CAN
When it comes to being in control, few systems can compare to this – putting operation of your Mosconi GLADEN DSP with the original OEM system controls at your fingertips. Thanks to its CAN-BUS integration, the volume of different DSP sources is accessible via the original headunit knob and steering wheel controls, while the original Aux button is also on hand for switching sources. The result is that there's no need for any additional external controls if the music needs to be reduced or muted before receiving incoming calls, or if audible parking sensors need to be heard.